As well as being a local electrician in the Worcestershire area, I am also a father of two children, Ellie who is now 16 and Zach who is 10, but back when they were babies and toddlers, like any parent  I would do anything for my kids.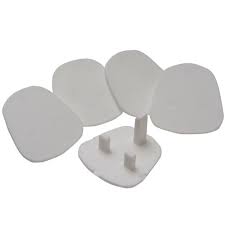 However as a NICEIC domestic Installer you get to meet lots of other electricians and see there post on social media and even there safety video's, it wasn't until i saw a good friend of mine put a video on his local Facebook page about the dangers of these safety plug's that us parents have been using all these years.
Steve Palmer is his name as this is his video I have shared myself and would encourage any parent, adult, teenager and especially electricians to, so just click on the link if you would like to see what he says. Click here to watch Steve's video
In summary what Steve is saying  is the plugs that are on sale today are not safe or  required, because the sockets have already a safety mechanism inside a normal domestic socket, if you are worried they are not then contact your local electrician who will gladly check it for you, especially if they are a registered NICEIC electrician.
Anyone reading this in the Worcestershire area then give me a call on 01905-915001 and will gladly inspect and test it for you, so please think about the kids are we leaving in danger, as we already have safety mechanism in place that we are overriding to line someones pocket.